AA/PIRC Internship
Deadline for application:
Sunday, April 24th, 2022, 11:59pm PT
Apply at https://bit.ly/aapircinternapp2223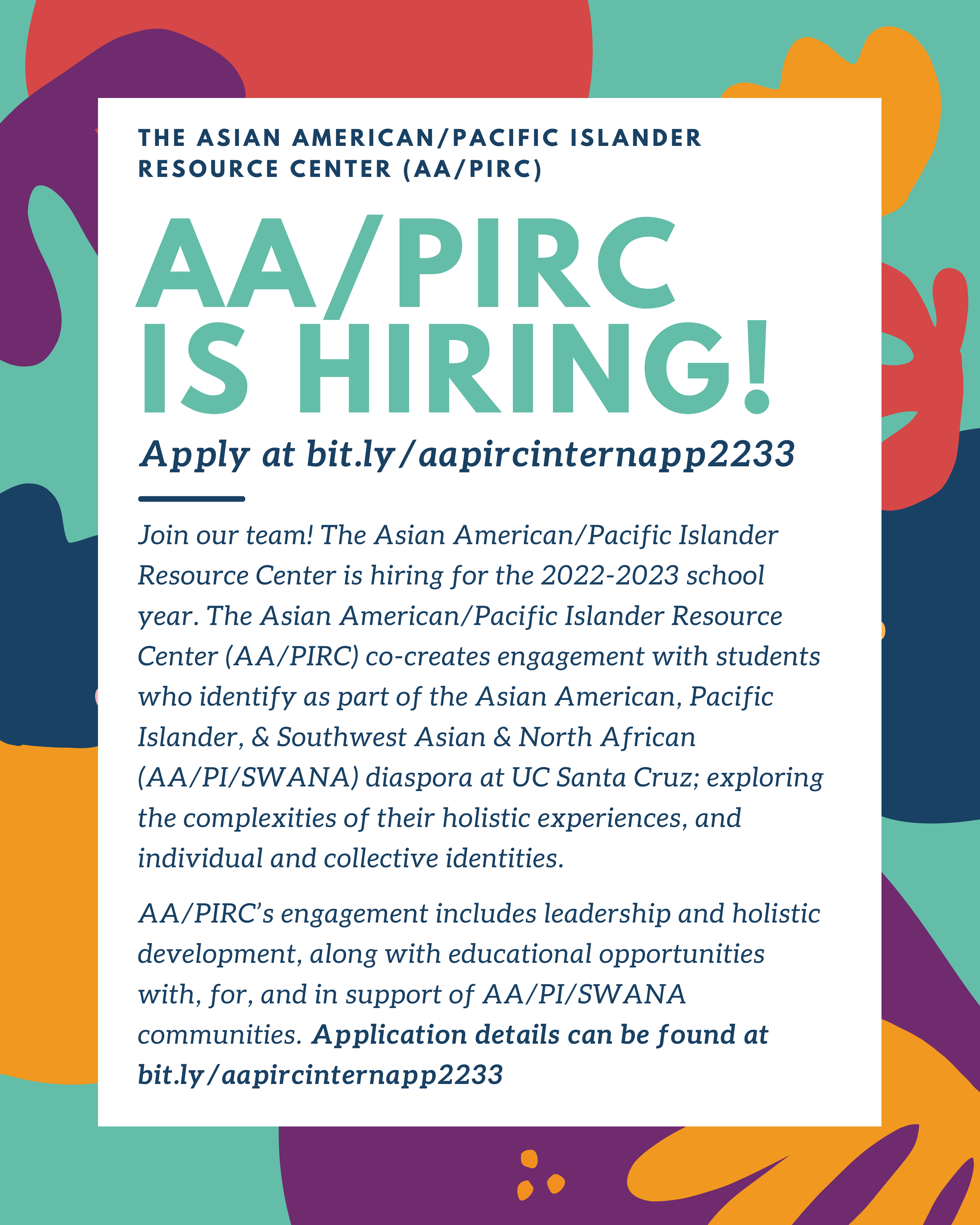 ---
COMPENSATION -
ACADEMIC INTERNSHIP: Requires minimum 5-7 (2 unit) or 10-12 (5 unit) hours per week commitment. PASS/NO PASS credit will be determined through time log of internship office hours, 4-6 page (2 unit) or 8-10 page (5 unit) critical reflection paper, internship participation including engagement and contributions to AA/PIRC and the Resource Centers. Full participation requires interns to come to office hours ON-TIME and communicate any changes or schedule conflicts to their supervisor.
READING AND WRITING -
Interns are responsible to read assigned articles and complete assignments per the syllabus which is provided upon acceptance to the internship. This internship emphasizes active learning, critical thinking, and active participation; readings and critical reflection papers are critical to the internship.

ALL INTERN ROLES AND RESPONSIBILITIES INCLUDE -
Program and Project Assistance, including AA/PI Community Welcome, Comedy Night, Student Alumni Inspiring Leadership programs, AA/PI Heritage Month events, the annual AA/PI Year End Ceremony and smaller events that include workshops, panel discussions, film screenings, collaborative efforts with student organizations and campus units and departments, and book talks or faculty discussions. Interns are expected to attend mandatory retreat/training sessions and AA/PIRC staff meetings.
REPRESENTATION OF AA/PIRC -
Interns represent AA/PIRC at campus functions such as student organization meetings, OPERS Fall Fest, outreach efforts in the fall and spring, and orientation programs. Interns facilitate program/project planning meetings, emcee events, and communicate with students, faculty and staff. Interns also provide important administrative support/clerical support to AA/PIRC and Ethnic Resource Center staff, including answering phones, providing information on programs and events, and drafting correspondence.

QUALIFICATIONS:
- Must be in good academic Standing (2.5 GPA and above).
- Capacity to take part in the Student Leadership Institute & AA/PIRC retreat.
- Committed to at least two continuous quarters in the internship.

For further questions, please contact Benedicto Llave via email at bllave@ucsc.edu.