Bridge To Success (BtS): Meet the Team!
Meet Our Staff and Student Peer Mentors!
---
Director Caz Salamanca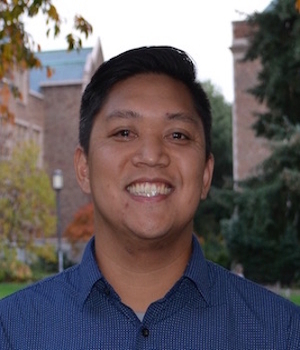 Caz Salamanca (he/him/siya) is an educator with over 10 years of experience in Higher Education. Raised in the Bay Area, Caz received his bachelor's degree in Cognitive Science from UC San Diego, where he was heavily involved in the Filipino American interest student organization. Since then, his professional and personal engagement in social justice work in higher education carried him through earning his Master's degree in Education from San Diego State University, and his previous experience as the Assistant Director of the MOSAIC Cross Cultural Center at San José State University. 
Caz is excited to return to California, the UC system and multicultural affairs, from his most recent experience as an Adviser and Diversity Programs Coordinator for the School of Public Health at the University of Washington in Seattle. Caz's interests include student identity and leadership development, hip hop education, and exploring social justice issues of pop culture. He also loves cooking, doing puzzle/escape rooms, and boba!
Program Coordinator Erika Pe
Erika Pe (she/hers) is a recent UCSC Alumna 21' where she received her bachelor's degree in Film and Digital Media and Intensive Psychology. During her time as a UCSC student she spent her time making films in the Film Production Coalition and exploring her cultural identity with the Chinese Student Association. Erika has deep roots within the UCSC community including Colleges Nine and Ten, the Career Center, CASFS, Campus Visits, and at AA/PIRC.
She is excited to continue her involvement at UCSC as a Program Coordinator for the BtS Program at AA/PIRC. She hopes to help students feel welcome and settled as they begin their exciting college experience. In her free time she loves going to the beach with her service dog Tobi, and re-binge watching period pieces like Bridgerton and comedies like Modern Family. 
---
Peer Mentor Dorsa Heydar
Pronouns: She/Her/Hers
College: Nine
Major: Politics
My name is Dorsa Heydar and I'm from the Bay Area and I consider Vancouver, Canada home as well. I grew up in a multilingual household so I have a passion for learning languages. I speak French and Farsi fluently and Turkish, Spanish and German at an intermediate level. I also love to travel and cook in my spare time.
Peer Mentor Jeff Aquino
Pronouns: He/Him/His
College: Merrill
Major: Film and Digital Media
Hi I'm Jeff and I'm a 4th year Film and Digital Media major. I'm a first generation Filipino immigrant and I lived in Los Angeles before coming up to Santa Cruz to pursue my degree. I wanted to be an AA/ PIRC BtS Peer Mentor because the whole system of pursuing higher education in an entirely new country was a struggle for me in so many ways and I wish I had the type of support that would have helped me navigate everything I had to muddle through by myself. Joining this program, I hope to be that person for anyone who may be struggling during this period in their lives. I also believe that being more active within the AA/PI community would aid me in my goal to give more realistic and positive representation for people within those communities in the film and digital media industry. In my free time I enjoy creative writing, playing video games, and watching movies, shows and YouTube videos.
Peer Mentor Lexus Marroquin
Pronouns: She/Her/Hers
College: Ten
Major: Marine Biology
Hi! My name is Lexus Marroquin, and I am a third-year Marine Biology Major. I am a second generation Latina, and was born and raised in Bakersfield, Ca which sometimes feels like a giant oven. I'm in the process of trying to quit buying squishmallows (I have over 20) its not looking too good but I'm trying. In my spare time I like to rollerblade around town and listen to some pretty sick music. I am very excited to see how big an impact I can make while being an AA/PIRC mentor, I hope to implement more unity and love throughout the AA/PIRC communities. I'm looking ford to being more involved within those communities. Oh and another thing about me is I love watching anime in my spare time!
Peer Mentor Maile Lipton
Pronouns: She/Her/Hers
College: Porter
Major: Film and Digital Media
My name is Maile Lipton and I'm a third-year film major, theater arts minor. I am Hawaiian, Chinese, and European, born and raised in the Bay Area. I wanted to become an AA/PIRC BtS Peer Mentor because the transition from high school to college was difficult for me, so I wanted to be able to give any kind of support I could to make this change to a new school easier. I also think the BtS program will be a great way to form friendships and connections with AA/PI students on campus. In my free time, I enjoy crocheting, playing video games, hiking, and continuously watching the same 3 TV shows.
Peer Mentor Sania Iftikhar
Pronouns: She/Her/Hers
College: Crown
Major: MCD Biology
Hey everyone! My name is Sania and I am a 4th year MCD Biology student. After I graduate, I would love to study neglected diseases of tropical regions. I am affiliated with Crown College and currently living in the bay area. I was born in Lahore, Pakistan and I immigrated to the U.S in 2006. I can speak Urdu/Hindi and read Arabic as well. Some of my hobbies include playing badminton and making tiktoks.
College is like learning how to walk- it can be tough at first but it just takes time to getting use to. That's why I am here to help! I'll have you running in no time. I remember when I first started, it was hard to get advice about housing, food, transportation, classes, etc. I want to help people like my younger self- so that way you can make the most out of your college experience! I cannot wait to represent and cultivate the SWANA population and create a beneficial resource here at UC Santa Cruz!